EVOHOME package with Open-Therm gateway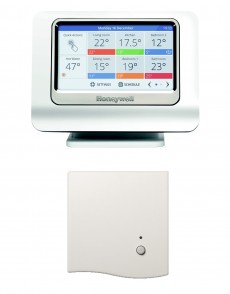 EvoHome package with On/Off gateway allows to control several heating zones from anywhere. This set is dedicated to Ecocondens Crystal II boiler. The package includes:
EvoHome Wi-Fi regulator
Open-Therm gateway
stand for EvoHome module with power supply
Advantages of the package:
wireless control of the heat source via free application on your smartphone or tablet,
receiving information about error codes on your phone or tablet
allowing for temperature control in individual rooms (up to 12 zones),
up to 4 thermostatic radiator controllers can be mounted in one zone,
possibility to control of underfloor heating (additional elements are required: round regulator and Open-Therm gateway, which are also on the offer),
large and color touchscreen
possibility to create your own heating schedules,
modern design perfectly fits to every interior,
thanks to wireless communication the house/flat does not require any modifications,
using EvoHome system allows for saving energy without losing the heat comfort.
With the EvoHome system, savings can reach up to 35%.
The manufacturer reserves the right to change the device's structure which do not have a significant impact on functional and technical characteristics of a product.