TERMET SG Plus 100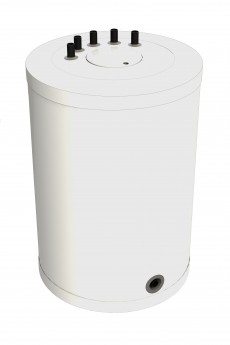 B
TERMET SG 100 tanks are the most modern solution to supplying with domestic hot water. They are designed for single-family houses, multi-family residential buildings and buildings of public use with few water supply points. Their characteristic feature is height (not exceed 1000 mm) which allows for easy location of tank under the boiler or in low boiler station.
compatible with condensing system boilers:

ECOCONDENS CRYSTAL II-20
ECOCONDENS CRYSTAL II-25
ECOCONDENS CRYSTAL II-35
ECOCONDENS GOLD-20
ECOCONDENS GOLD-25
ECOCONDENS GOLD-35
ECOCONDENS SILVER-20
ECOCONDENS SILVER-25
ECOCONDENS SILVER-35
ECOCONDENS CRYSTAL-50

upper power supply
durable and safe in operation
easy to use and install
housing made of sheet steel covered with white powder paint
tank made of sheet steel, covered with special ceramic enamel from the inside, which protects against corrosion and provides high quality of heating water
pre-installed magnesium anode which protects against corrosion
safety valve included in boiler's equipment
| | |
| --- | --- |
| Parameters | Value |
The manufacturer reserves the right to change the device's structure which do not have a significant impact on functional and technical characteristics of a product.