TERMET ST-2801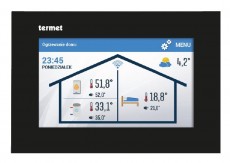 TERMET ST-2801 with Open-Therm protocol ensures intelligent maintenance of the set room temperature by automatic proportional regulation of the prset boiler temperature.
Controller enables user to adjust the control algorithm parameters.
Big advantage of ST-2801 controller is its colour, large and easy-to-read touch display. It allows for very comfortable operation of the device and modulation of its parameters. Easy flush-mounting in an electrical box (ø60mm).
Functions performed by the controller:
intelligent maintenance of the room temperature setpoint
intelligent control of the preset temperature of the C.H.
change of the room setpoint based on the outside temperature (weather control)
external temperature preview
weekly programme of room heating and boiler
displaying information about the alarms of the boiler
access to heating device temperature charts
alarm clock
parental blockade
Controller equipment:
large, easy to read, colour, touch screen display
flush-mounted
| | |
| --- | --- |
| Parameters | Value |
The manufacturer reserves the right to change the device's structure which do not have a significant impact on functional and technical characteristics of a product.